The face of medicine has changed drastically for the world since the creation and mass distribution of medications. Prescription drug companies are part of some of the most lucrative businesses in the world, while also helping the populace perform better in their daily lives and achieve a higher quality of life. But, because of the nature of medications, they can sometimes be expensive, especially if you live in a Western country, and if you have to take your prescription drugs every day, it can pile up into a hefty sum very quickly. However, there are ways to cut down drastically on costs.
If you are on medications called Deplin, Metanx, or Cerefolin NAC, chances are that you have heard about Rx Direct Plus. First of all, the formerly introduced medications are all prescription medical foods that are made to cater to the nutritional needs of certain individuals by supplementing them with good amounts of Vitamin B. Deplin can be used along with antidepressants, Mentax in managing peripheral neuropathy, and Cerefolin NAC with those suffering from mild cognitive impairment. They are all meant to help address any metabolic and nutritional imbalances in the body.
Rx Direct Plus is a business that helps persons on these medications by allowing them to save more for their prescriptions. Since most of these drugs are taken daily, it would be no surprise that they would try to aid those who need to take these pills but may not be financially able. Regardless of whatever insurance plan you might be on and whether or not it covers the medications previously mentioned, branddirecthealth.com guarantees that you will only need to pay $58 per month for your medication. As long as you have your prescription for any one of the three pills, you are eligible for coverage by the program, and you can order you pills through Brand Direct Health.
Rx Direct Plus Brand Direct Health
While Rx Direct Plus is the program that helps lessen your costs, Brand Direct Health is the pharmacy that will actually send you your needed meds. This pharmacy specializes in prescription medical foods and is the full-term partner of the Rx Direct health program. They've been striving to ensure lowered prices as compared to what you would normally find at the pharmacy, and they strive to give excellent service. To order, you will need a valid prescription and have it shipped to the address as written on their website by either you or your doctor. Once that's done, all you have to do is wait for the customer service representative to contact you and your prescription will be shipped to your home within 2 to 5 business days.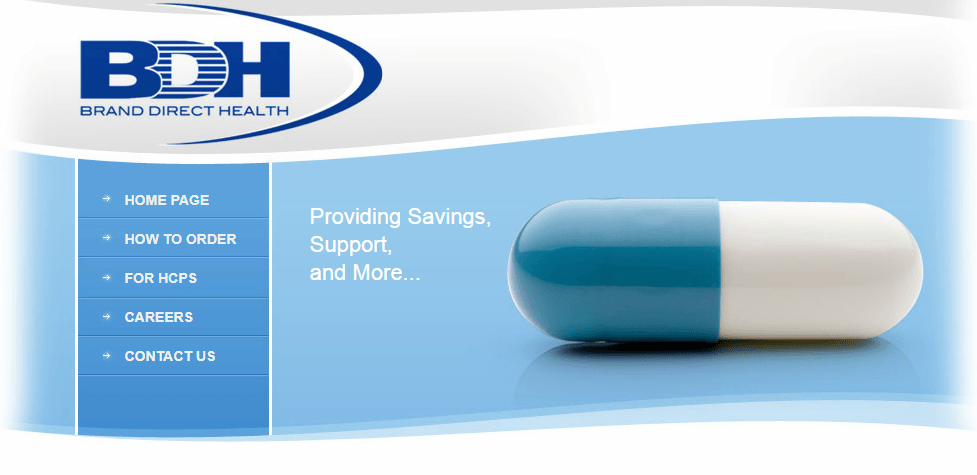 Brand Direct Health Homepage
Having these two sites working together for you can be a huge help. For one, the regular prices of such pills can each be around $300-400 for a 90 supply on the regular market, and that's if you find a pharmacy that is selling them for cheap, but using Rx Direct Plus and buying from Brand Direct Health can reduce total spending to $174.
Rx Direct Plus Reviews
There are a lot of conveniences that come with being a part of the program. Aside from getting a patient savings plan for these drugs, you don't have to worry about picking up the pills yourself since they'll be brought to your address. They even provide a new refill option that is automated and give reminders for when refill days are approaching through texts or emails if you prefer. If your needs aren't met, you can also return the drugs. Many people have been introduced to the program through their doctor and were able to appreciate the services.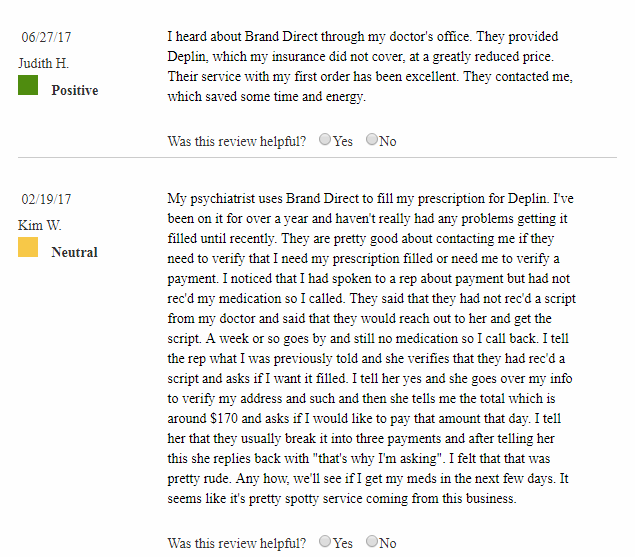 A Few Reviews on both Websites given by Customers
However, aside from any praise that can be given, there are also a number of complaints available on Better Business Bureau. It turns out that many people have had the unfortunate experience of having several payments billed to their accounts without the actual product arriving or without any compensation or correction of the mistake. However, these seem to be the exception rather than the rule, and plenty of the initial complaints were later resolved by the company, even if it did take them some time to fulfill the requests.
Brand Direct Health Phone Number
One good aspect of this business is that they have consistent activity and service for their customers. Many people are able to express their questions and concerns through +1 866-331-6440, which is Brand Direct Health's customer service phone number. They can also send emails to [email protected]
Summary
Rx Direct Plus is essentially a program for persons who are prescribed or are taking Deplin, Metanx, or Cerefolin NAC. These are all classified as prescription medical foods and can be quite expensive when bought in bulk since they must be taken daily or twice daily depending on your doctor's orders. In order to reduce the costs of buying these drugs, you can enlist to the titular website and pay only $58 per month for the needed drugs. Through Rx Direct Plus's partner, Brand Direct Health, you can order the medications by presenting your valid prescription from your doctor and have them shipped to you after a few days. The business has been seen to be a generally beneficial one to its clients despite the odd complaint or instance of miscommunication, and they have several means of letting customers speak to their service providers.
In order to get the right medications, it is important that you know which pharmacies to buy from, especially if you're buying online. You can use several resources to check the validity of these vendors, such as the NABP and Pharmacy Checker websites. If you want to buy a different set of medications online but don't know where to start, look through our top recommendations list of online pharmacies here.